Professional Industrial Tinting Solutions
Tinting solutions can be implemented in all environments and not just homes and places of business, making it viable for businesses operating in the construction and related industries to provide their employees with protection from the sun and its harmful UV rays, even when working outdoors.
At Rayban Window Tinting in Perth, we understand just how exhausting it can be to work outside in the scorching summer heat of Western Australia without adequate sun protection, which is why we work with local businesses in a variety of industries to implement shading solutions that meet the precise needs and requirements of their workforces.
Making Worksites Safe
With the sun blazing down, working on a construction project and driving machinery around all day can be extremely tiring, not to mention extremely dangerous because of the damage ultraviolet rays can inflict on workers' skin if they're not covered up. However, the combination of mandatory protective clothing and the heat radiating into an already hot cabin is unpleasant and makes for a really tough day.
For employees to be productive and happy at work, they need to be cool and comfortable on the worksite, which isn't always easy, but with innovative industrial window tinting solutions delivered by Perth's tinting experts, it is possible to provide employees with protection from the sun and heat.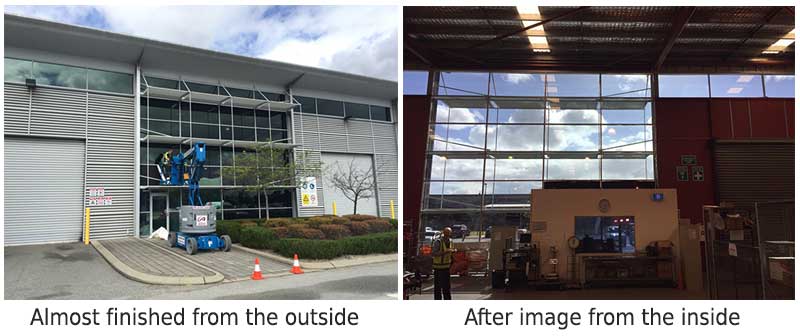 Competitive Prices
Where more than one machine is being tinted, we can arrange a special rate to ensure that you get the best possible deal. The same can be done where a continuous supply of tinting work is ordered. And if you can't get your machinery to us because it's already onsite, that's no problem for our industrial tinting specialists – we'll come to you.
Wherever you're located in the Perth metropolitan area, the Rayban Window Tinting team is more than happy to visit you onsite to provide a free, no-obligation quote on any window tinting services. Along with plant machinery and equipment, we also cater for industrial workplaces of all shapes and sizes and can deliver a window tinting solution that meets the specific needs of your workplace.
As you can see from the below photos which show an industrial window tinting project as it progresses, our expert window tinting solutions can deliver real change at your place of work, making it cooler, more comfortable and safer for your most important asset – your employees.
Perth's Industrial Tinting Specialists
With over 40 years' experience in the industry, we have a wealth of knowledge and expertise that enables us to deliver quality window tinting solutions that transform workplaces and provide relief from the strong Western Australian sun.
Our professional team can custom tint the windows of your machinery and workplace, blocking out the heat, glare and harmful UV rays all day long, improving comfort and ensuring your employees are able to fully concentrate on their work. For expert advice about the best tinting option for your machinery and workplace, call the team today on (08) 9350 5199 or to arrange an onsite visit and free quote. From rollers and bobcats to excavators and prime movers, if it has glass, we can tint it!